At the end of 2015, there was a 31 per cent increase in the number of suburbs with a median value in excess of $1 million, rising to 530 from 406 suburbs in 2014.
No longer such an exclusive club, particularly with the recent rises in home values, the majority of these sales took place in the uber-desirable areas of NSW, but WA still made a dent with 38 suburbs making the list in 2015.
Here's how each state stacked up: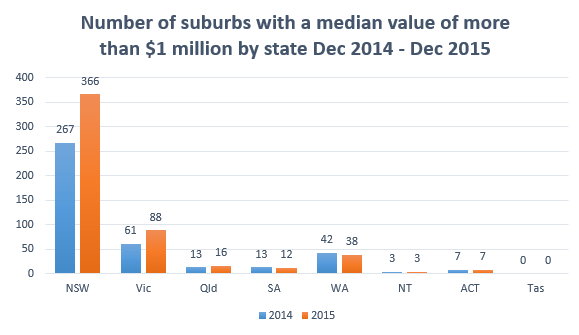 Wondering where the priciest addresses in the country are?
The top 10 most expensive suburbs nationally, based on median house value as at December 2015 are as follows:
Centennial Park, NSW, $6,295,973

Point Piper, NSW, $5,898,542

Darling Point, NSW, $5,820,051

Vaucluse, NSW, $4,375,781

Bellevue Hill, NSW, $4,346,180

Tamarama, NSW, $3,762,594

Dover Heights, NSW, $3,594,684

Peppermint Grove, WA, $3,564,725

Double Bay, NSW, $3,323,665

Whale Beach, NSW, $3,307,451
Only time will tell how many more suburbs will make it into the magic million-dollar club by December 2016. One thing that's for sure is Australia has some seriously expensive real estate!
To find your next property (which doesn't have to cost $1 million!) contact Naked Edge Real Estate.