According to The Australian the days of the McMansion are numbered, with the size of Australian homes shrinking over the past few years.
Aussie homes (some of the biggest in the world) reached peak size in 2009 at an average of 222 sqm for newly built houses and apartments combined.
But the global financial crisis put paid to that with soaring costs and changing lifestyles also to blame.
The average new home now stands at 192 sqm, making it smaller than in 2001.
And as you can see from the graphic below the average house size varies considerably from state to state, with Perth still ranking quite high.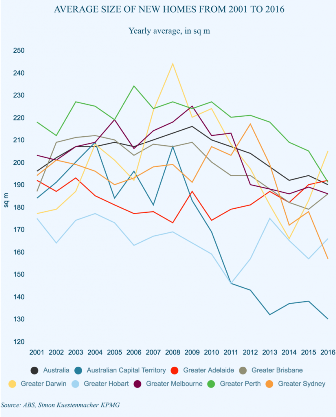 Source: The Australian
Demographic changes, especially among Gen Y, has put Australia on a trajectory towards smaller homes with a shift in values to 'less is more' and spending on experiences rather than material goods.
However, Australian houses are still big on a global scale with a new house, on average, having more cars and more TVs than it does children.