The average cost of building an outdoor kitchen is around $10,000: which, of course, can vary entirely with the how much you would like to get out of your build. If you want a fully-customised outdoor kitchen with all-new materials and appliances and high-end luxury furniture, your price may be tens of thousands of dollars over the average. Although these costs may seem high, you can spend a lot less than expected if you create a budget, research outdoor kitchen prices, and plan accordingly – with the results paying off as a valuable home investment.
Professionals and Second-hand Materials
Unless you are highly experienced, you will need to pay electricians and plumbers to install appliances such as outdoor ovens. Professionals will know local building codes and the risks involved in setting up electrical appliances outside. They can advise you about where to best position things such as your oven, barbeque, or stove so your kitchen will be properly ventilated and will not send smoke straight into your neighbour's bedroom window!
You may be able to source second-hand materials for some features of your outdoor kitchen, such as furniture and cabinets. Buying second-hand benchtops, appliances, and cabinets can lower the cost of your outdoor kitchen. Always ask for pictures of the appliance in question so you can evaluate how worn it looks. Also, keep in mind the age of the appliance, so you can judge how much longer it will likely last.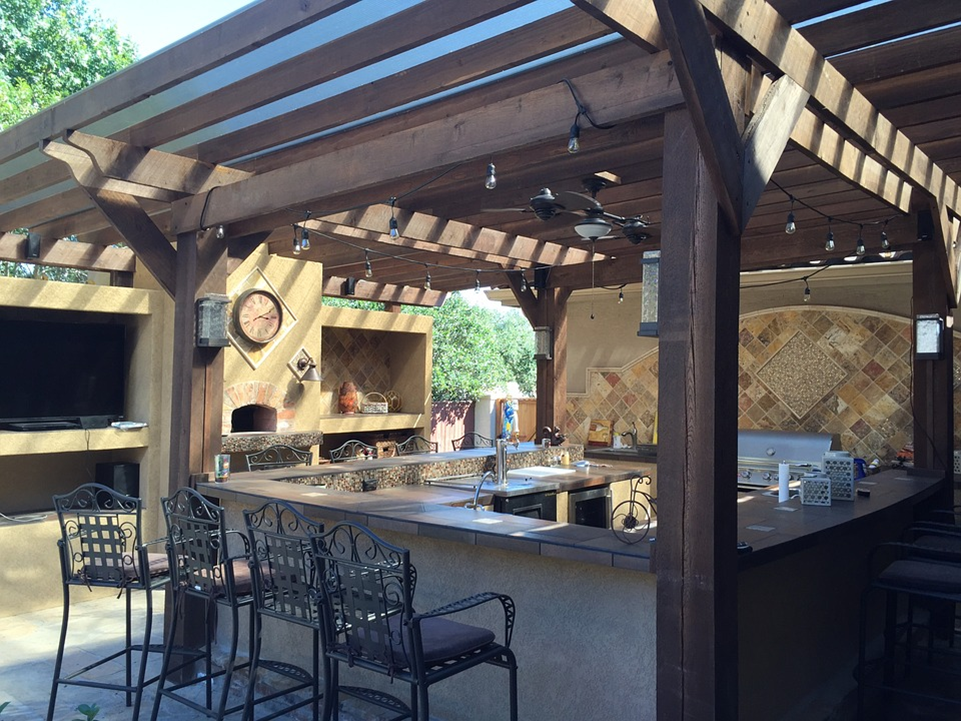 Essential Elements to Consider
If you're willing to spend more on new materials, consider sizing. Do you want a large kitchen with a long benchtop and space to fit many appliances? This will cost more to install, and the materials will cost more to purchase. Do you want a granite bench top or stainless? Large or small cabinets? These variables can make the difference between cheaper and more expensive versions of the same job.
Finally, be aware of permits. Check your local council or regional laws to see what permissions and qualifications you may need to when extending your outdoor living area. Plumbing and electrical work often require permits, so look into your local building laws and plan permit costs into your budget. Make sure that your contractors have the relevant permits before they begin working on your property – and remember that the person who takes the permit must comply with it, so don't trust contractors who insist that you must take out the permit yourself!
Handy Tips for Finding Reliable Contractors

When hiring contractors, make sure they aren't over or under charging you per hour. If they're charging more than $80/hr, you might want to look for someone cheaper. Conversely, be careful if your contractor seems to be charging far less than the average rate. This may mean that they mean to use low-grade materials or are not experienced or licensed to do the job – and they may end up causing more harm than good.
Like any build, the key is to plan in advance. Ensure you get a range of quotes from different suppliers and contractors so that you can balance the costs of your dream outdoor kitchen with your budget. Decide what you really need, but you don't need to lower all of your expectations if your initial plan seems too expensive – you might be able to find a great deal on high-quality used furnishings.