How to entice buyers with a brand new bathroom.
Did you know a finished bathroom/s can make or break a property sale?
In our experience, most buyers are looking for a home that is 'move-in-ready', meaning the kitchen, bathrooms, and living spaces are finished for them to enjoy. Even the "DIY" types that we see through our home opens will say they're looking for a home that they can fix up, but in a lot of cases this means they're happy to paint the walls or put down some new carpet…
Buyers will try to negotiate the price down if they know they'll need to put time and money into it after they move in. If they think a remodel is necessary for one or more of your spaces, it can make or break your property sale.
So, in the interest of selling your home for the price you want, here's a few bathroom tips (ranging from cheap and simple, to a little more expensive and intensive) to help you get the best price for your home or investment property…
The good news is, you don't need to install expensive terrazzo bathroom flooring or a golden bathtub to achieve bath bliss. With just a few simple changes, you can easily transform your bathroom into a luxurious retreat, to make sure your home stands out to every buyer that comes through for a look…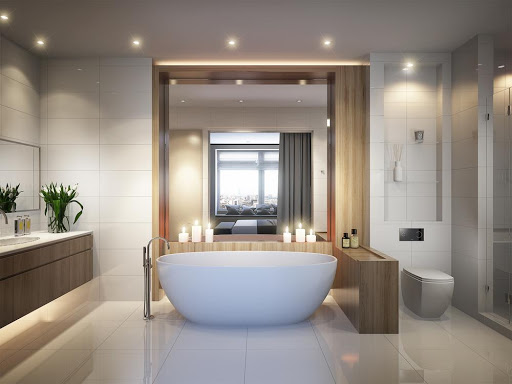 Paint Your Walls

Giving your bathroom walls a fresh coat of paint is an easy, inexpensive way to create a soothing environment. If you're sprucing the space up purely with the intention of selling, stick with neutral colors (whites, off-whites, grays, etc). Or, if you're feeling creative, lighter colors such as seafoam green can also instantly update your bathroom and make the space feel bigger.

When choosing a paint color for your bathroom, you'll also want to think about the style of your space. Is your bathroom on the minimalistic side with Scandinavian influence? You may want to stick to cool grays and white to keep in line with your sleek style. Does your bathroom have a hint of farmhouse style? A taupe or off-white will help bring out the rustic charm of your space.

Add Some Greenery

Placing indoor plants in your bathroom is another cost-effective way to dramatically enhance the aesthetic appeal of your bathroom. The only problem with live plants specifically is that you need to keep them alive, which is easier said than done for those of us with black thumbs… In that case, fake plants can serve as a great replacement, and help your space feel fresh and finished.

Go for Gold

Adding gold details in your bathroom is an easy way to give it a high-end, luxurious feel. For example, switching your cabinet handles with gold hardware or going for a gilded faucet will add a glitzy vibe to your space.

Other ways you can insert some gold to your bathroom include hanging up a gold-accented mirror or installing gilded light fixtures. Just be careful to avoid going overboard with this bold color. Gold is much better suited as an accent as opposed to a primary color.

Set the Tone with Your Bathroom Flooring

Flooring sets the tone for any living space, and your bathroom is no exception. If you've been staring at ugly, outdated tiles for years, potential buyers will likely see the same thing. From beautiful and sophisticated marble tile to modern and practical vinyl plank flooring, there are plenty of floor designs that will give you an updated feel.

If you're looking for an inexpensive DIY bathroom flooring option, you may also want to consider installing deck tiles in your bathroom. Quick, easy, and a breeze to maintain, deck tiles come in a variety of color and style options to help you achieve an ultimate spa vibe for your bathroom.

Install Backsplash

You can think of a backsplash like your bathroom's own personal jewelry. From classic subway tile to eye-catching hexagon mosaic tiles, your bathroom backsplash can make ordinary walls look dramatic and beautiful.

Including the cost of installation and material, adding a bathroom backsplash can cost you anywhere from $600 to $1400. The good news is that there are some DIY options that can help you achieve a similar look for less. For example, faux tin ceiling tiles are inexpensive, easy to install, and come in a variety of colors and finishes. If nothing else, you can always try peel-and-stick ceramic tiles.

Seal the Deal with a Bath Caddy and Candles

After you've tackled the home improvement projects for your bathroom, it's time to make your bathroom feel 'lived in'. Simple accents such as a wooden bath caddy and mood-setting candles can do the trick, and help buyers visualise themselves using the space.

Buyers buy on emotion, so helping them imagine sipping a drink on their bath caddy with a good book in hand, or lighting candles and reading by the soft light can make a huge difference in your bathroom's atmosphere.
You don't need to make all these changes to your bathroom at once. If the budget is an issue,
take things slow and focus on one improvement at a time. Knock out the easier things (such as a
bath caddy), and then move on to the bigger items that may require more work.
Once you're done, you'll be in a much better position to sell your home for the price you want.
Want to sell in a tough market? Call Brendan today on 0439 998 867, or book an appraisal online, here. His 10+ years experience will help you sell your home quick smart, for the best price.