Australia's biggest mortgage aggregator Australian Finance Group (AFG) sold a record $14.6 billion of mortgages in the second quarter of 2016.
The data is not seasonally adjusted, however, and the national figures do suggest that the annual rate of growth in mortgage volumes has slowed, possible impacts of compositional change notwithstanding.
Most notably, investors now comprise just 34 per cent of mortgages, well down from the 40 per cent level seen in the preceding financial year before APRA implemented tighter measures in order to constrain investment lending.
How the states stack up
AFG commented on the numbers:
"The traditional powerhouse states of Victoria and NSW led the way, up 16.6 % and 12.2% respectively.
South Australia was up 12.2% for the financial year and Queensland recorded a lift of 4.2% on the previous financial year.
On the flipside a drop of 13.4% in WA was not unexpected as the state comes to terms with life post-mining boom."
The quarterly dollar lodgement volumes, not seasonally adjusted, are charted below.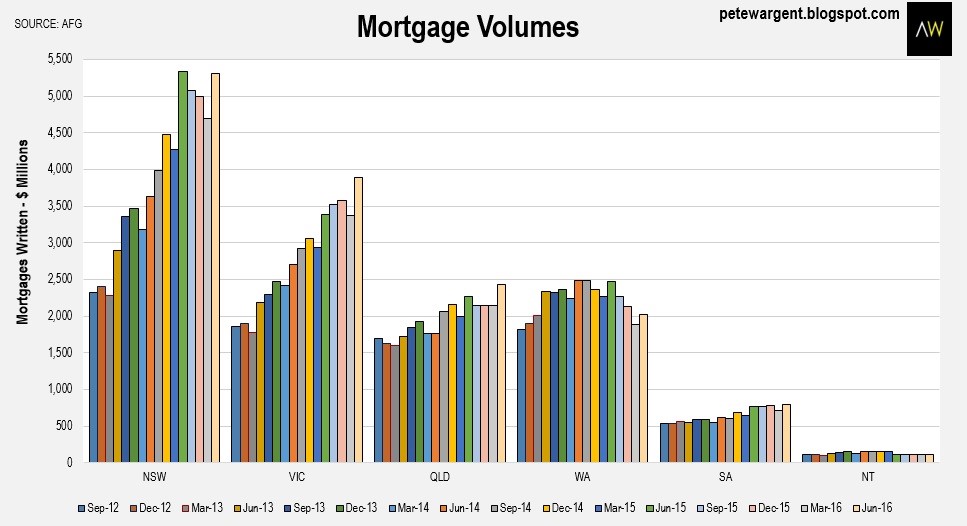 Record loan size
The average loan size hit a new high of a tick above $478,000 in the June quarter, representing a 19.5 per cent increase over the past three years.
The gains were driven by new record high mortgage sizes in New South Wales ($591,925) and in Queensland ($399,375).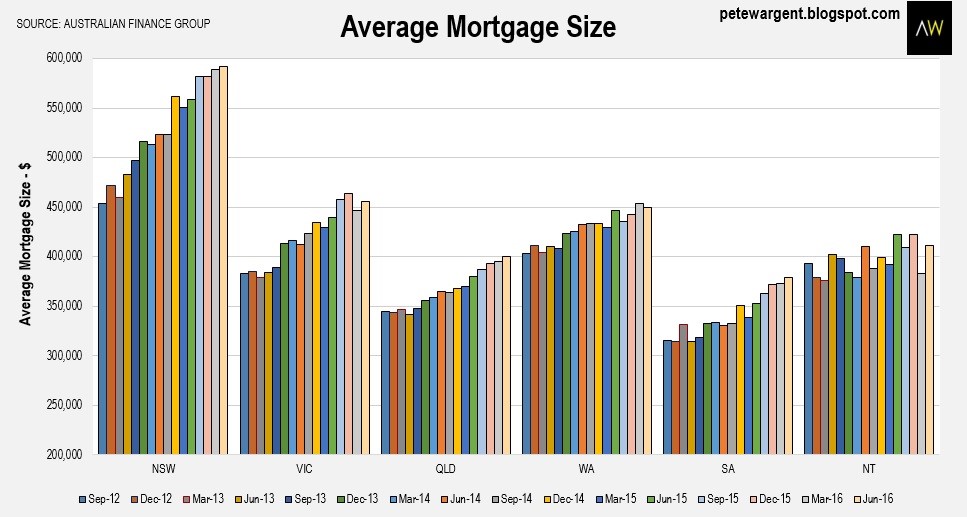 The average loan size in New South Wales is 23 per cent higher than three years ago, although average loan-to-value ratios in NSW tend to be consistently reported as being lower than in other states (presently 69 per cent, as compared to 72 per cent in Victoria).
The wrap
Overall loan volumes reported by AFG were 7 per cent higher over the financial year, broadly in line with prospectus expectations with non-major lenders lifting their share of the market to 29.1 per cent.
AFG also reported that fixed rate loans as a percentage of overall volume have increased from 14.5 per cent at the start of the financial year to close at 18.7 per cent by the end of the financial year, as borrowers enjoy record low mortgage rates.
Futures markets are pricing a 60 per cent chance of the cash rate being cut to a fresh record low at the Reserve Bank's August meeting.
For the latest property market information visit the blog section of the Naked Edge Real Estate website.