Sell Your Home For More With These FIVE Updates
Some home features have always been big sellers to those looking for a new home, like an updated kitchen and bathrooms, while other features are new to the market and appeal to younger buyers – such as integrated smart technology.
It's a no brainer then, that keeping your home updated and fresh is vital to increasing its value.
Here are five home updates for you to consider to help you sell your home for more. Each of these features are quality investments, so you can rest easy knowing that they won't age or outdate in the near future!
1. Bathroom Remodel
Moisture issues and regular use can cause bathrooms to require more remodeling attention than other areas of your home, but in our experience, most buyers will be enticed by an updated bathroom (and kitchen, but more on that later)…
This is why it's a good idea to update the features in both your full and half baths every three to five years. This way, you avoid having to complete a total overhaul once you decide to sell your home.
Lighting: Want to make the biggest impact for the lowest cost? If your bathroom is dark and dingy, consider going light shopping.
There are a range of affordable looks you can choose from to suit your bathroom, including:
Pendant lights
Downlights
LED downlights
Concealed lighting
Whatever your preferred design is, making sure your bathroom is well lit should be at the top of your priority list.
For Perth bathroom pricing and style tips, we love this post from On the Ball Bathroom Renovations – they showcase their recent bathroom reno's in Thornlie, Como, Southern River and Bibra Lake.
>>> General Style Tip… Carefully consider the style of the tiles you decide to lay when first updating the bathroom and opt for neutral colours with few patterns or designs. They're called "classics" for a reason – this style is timeless and won't go out of fashion any time soon.
Shower + Bath Tub: If your current shower and bathtub are outdated (if it's chipped or it's a bright shade of mauve or seafoam green, sorry but the buyer consensus is – it's ugly), consider installing a new shower or free-standing bath tub and then re-caulk the area every so often to avoid cracking, discoloration and water leakage.
Just a shower? If you're without a bathtub and have the space in your stand up shower, double shower heads are a very popular and appealing feature to home buyers. They're luxurious, convenient, and timeless.
2. Kitchen Update
The kitchen has long been one of the most important features of a home for buyers of all ages. An open kitchen area with plenty of dining space and counter seating is a top priority for any homeowner looking to capitalise on their investment.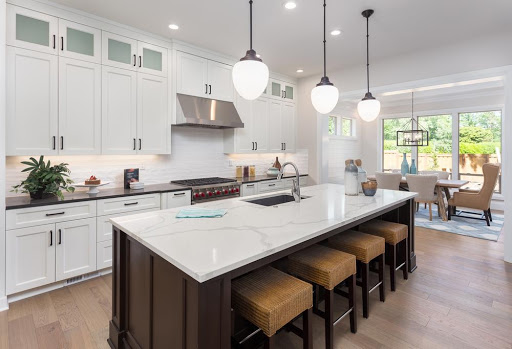 If you feel as though you've stepped back in time when you walk into your kitchen, it's advisable to remodel the space and then make small tweaks over the years.
A few pointers:
Sleek, modern kitchen cabinets are favored over older, ornate wooden-style ones.
When it comes to kitchen counters, granite is appealing to many buyers, but quartz countertops have become the new gold standard.
Stainless steel is another great buzzword that sticks out to modern home buyers. Replace your old appliances with those made of stainless steel for a more polished look.
A double sink recess (if your kitchen countertop has the space) is considered a must have for buyers (particularly families… lots of dishes)!
An updated kitchen can totally transform the feel of a home, so if you're to update anything in your home first, the kitchen would be our top pick.
3. Energy Efficient Features
As the world becomes more environmentally aware, many home buyers are seeking out properties with energy efficient appliances and features. A prime example is solar panels, which can be very costly, but can offer enormous savings on energy costs.
Installing solar panels is a major project, so it's not recommended that you take on this work solely for the purpose of selling your home, but if you're interested in making your home more environmentally efficient, and you plan to live there for a while, they can be a great long-term investment (for both you, and potential buyers in years to come).
Aside from solar panels, a smaller, more affordable home improvement you could make to lower energy costs is to replace your windows.
These are a common feature in energy efficient homes, as old windows can become loose and let in outside air. This then allows unwanted cool or warm air into your home, making your central air work harder to maintain the set temperature.
And if you replace your windows just before you sell, the benefits are twofold – you add value to your home, and you don't need to clean them (haha).
4. Smart Technology
From lighting and security to music systems and thermostats, there's nearly an endless list of ways to incorporate smart tech into your home.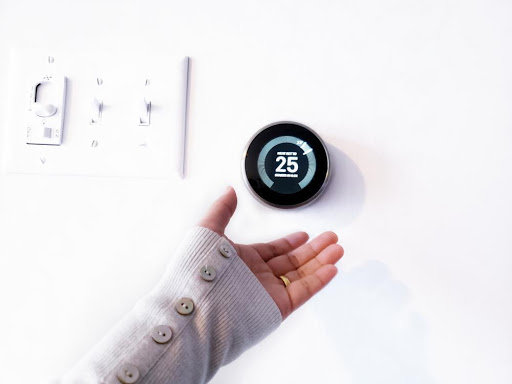 Our advice is, think about when you want to sell your home. If you're selling now – it might be worth adding a cool new tech feature to entice the current buyer pool. But if you're not planning on selling for five years or so, it might be worth waiting – in five years time your choice of "smart tech" might not be considered "smart" any more…
Just think about how often all those Apple products are updated.
If you are after the latest and greatest technology, the most desired feature is the new Nest Thermostat, which can determine which temperature you prefer to keep your home at and develops a schedule to efficiently heat and cool each room. This is especially coveted by buyers with families.
If you're after a few smart technology options that can stand the test of time, think about installing some outdoor cameras or alarm systems. Buyers will always value their privacy and safety, so even if these features aren't brand spanking new, they will still be viewed in a positive light.
5. Add a Porch or Back Patio Area
Aside from indoor features, many home buyers look to a property's backyard before making a decision on whether or not they are interested in buying. A porch or back patio is the perfect space to host outdoor gatherings or relax with the family in the evenings.
If you already have one of these areas, consider updating the space with new, stylish flooring, an outdoor kitchen area, or some outdoor ceiling fans. Though you likely won't be selling your outdoor furniture with the home, it's important to have a cohesive design and theme within the space to help potential buyers imagine themselves relaxing on the patio.
Selling your home for the best price is our speciality, so if you're struggling to find a buyer in the current Perth market, feel free to give Brendan Leahy a call on 0439 998 867. He'd love to lend you his 12+ years of property experience and help you get the best outcome for your home.